History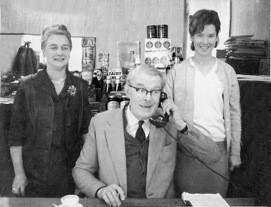 Thornton Sugar's history is the story of three generations of sugar traders.
The business was formed by Hubert Thornton, a grocer from Fulham. Thornton followed the commodity markets of the grocery products he sold and began to trade sugar for supply to small manufactures in and around London from 1959.
Hugh Thornton took the reins of the sugar trading business in 1960 with a particular focus on sugar futures. Thornton grew the business through the sugar shortage of the mid 1970s and into the 1980s when his son Adrian joined the business.
Thornton Sugar continue to trade steadily and successfully through many changes in the sugar market and regime. In 2013, after 54 years as a limited liability partnership, Adrian incorporated the business and formed Thornton Sugar Ltd with a view to continue maintainable growth.
What makes Thornton Sugar Ltd different from other sugar trading businesses is the undeniable passion for the industry, that stems from generations of Thornton sugar traders; enthusiastically independent for over 50 years.
Thornton Sugar Ltd are proud to announce that we have recently gained our BRC Global Standard for Agents and Brokers.